Instructions for Making Sure Your Vote Counts Tomorrow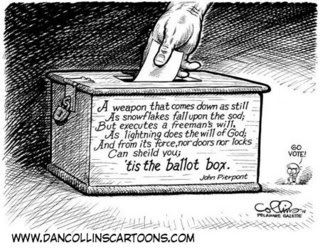 Hello Dear Ones,
As you may know I've been volunteering at the MoveOn Help Desk for almost 5 years now. I'm hoping that a win for Obama tomorrow will be the result of all these long, difficult years of effort by all of us. To that end I'm forwarding a helpful list of tips about voting tomorrow from MoveOn. Please circulate it far and wide. Many of our friends haven't voted yet and we want to be certain that absolutely every single, vote is counted correctly! Thanks.
GO OBAMA!
-Emily



Election 2008 Voting Informatio

n

Today, November 4th, is Election Day! Remember to vote—not just for Barack Obama, but for Congressional, state, and local candidates as well.

IMPORTANT NOTE: MoveOn members overwhelmingly oppose California's Proposition 8 (a ban on same-sex marriage). Please vote NO on Prop 8.



Where and when do I vote?



Find your polling place, voting times, and other important information by checking out these sites and the hotline below. These resources are good, but not perfect. To be doubly sure, you can also contact your local elections office.

* Obama's VoteForChange site: voteforchange.com
* League of Women Voters' site: vote411.org/pollfinder.php
* Obama's voter hotline: 877-US4-OBAMA (877-874-6226)



What should I do before I go?



* After you've entered your address on either Vote For Change or Vote411, read the voting instructions and special rules for your state.
* Voting ID laws vary from state to state, but if you have ID, bring it.
* Check out all the voting myths and misinformation to look out for: http://truth.voteforchange.com/

What if something goes wrong?

* Not on the voter list? Make sure you're at the right polling place, then demand a provisional ballot.
* If you're voting on an electronic machine with a paper record, verify that the record is accurate.
* Need legal help? Call 1-866-OUR-VOTE.
* Try to get video of the problem and submit it to VideoTheVote.org



Want to do more?



* Text all of your friends: "Vote Obama today! Pass it on!"
* Call voters in critical battleground states for Obama, from home:
http://my.barackobama.com/page/content/phonebankmap

Now everybody go vote!!!